A special program "Aquarium Backyard Tour" that allows you to see behind the scenes of the aquarium
Aquarium backyard tour (Saturdays, Sundays, and holidays only)
We will guide you behind the scenes of the aquarium where the aquarium keepers work, with commentary from the keepers.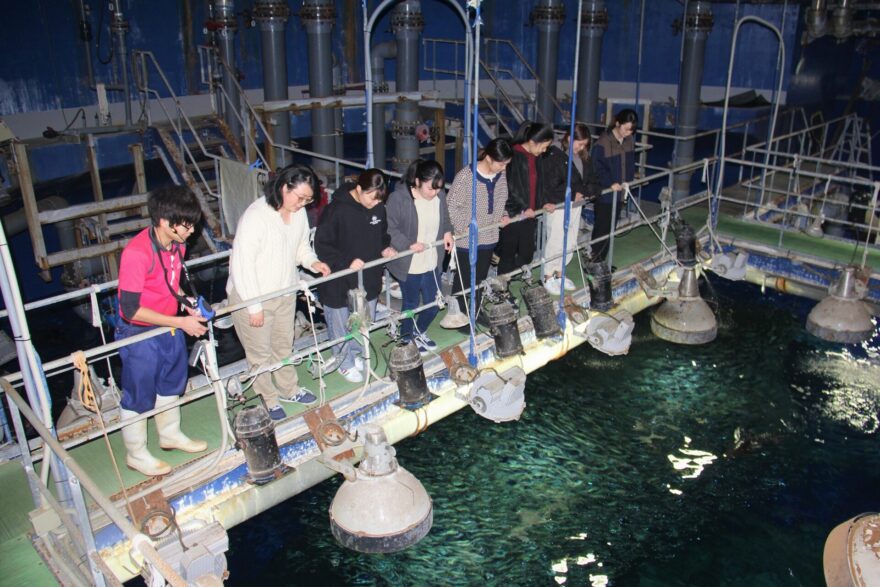 Time
11:00~ (About 30 minutes)
*Please check the special program information on the top page for the date of the event.
Fee
1 yen per person (over 500 years old)
Fixed employee
Up to 15 people each time
The meeting place
Next to the otter tank on the 5th floor (in front of the toilet)
Children of elementary school age and younger must be accompanied by an adult (the accompanying person also needs a participation ticket).
Children under the age of 3 can participate, but please refrain from participating in strollers. (Strollers will be kept at the entrance of the backyard.)
After the meeting time, it will be canceled.Also, refunds are not possible.
The backyard is wet and slippery.Please be careful of your feet.
You may look into the water tank from above.Please be careful not to drop anything in the water tank.
Please refrain from taking photos and videos in the backyard.
If you are unable to purchase a ticket for your companion due to sold out, please contact the general information desk.
Please cooperate in wearing a mask during the tour and disinfecting the soles of your shoes and hands at the backyard entrance.
We look forward to your participation.