About the Night Limited Special Program "Night Backyard Tour" (Updated July 2023, 7)
We are holding a night backyard tour as a special program limited to the nighttime business "NIGHT AQUAWORLD".
To participate, you need a WEB ticket with a specified date and time for "NIGHT AQUAWORLD" with a night backyard.
night backyard tour
We will guide you behind the scenes of the aquarium where the aquarium keepers work, with commentary from the keepers.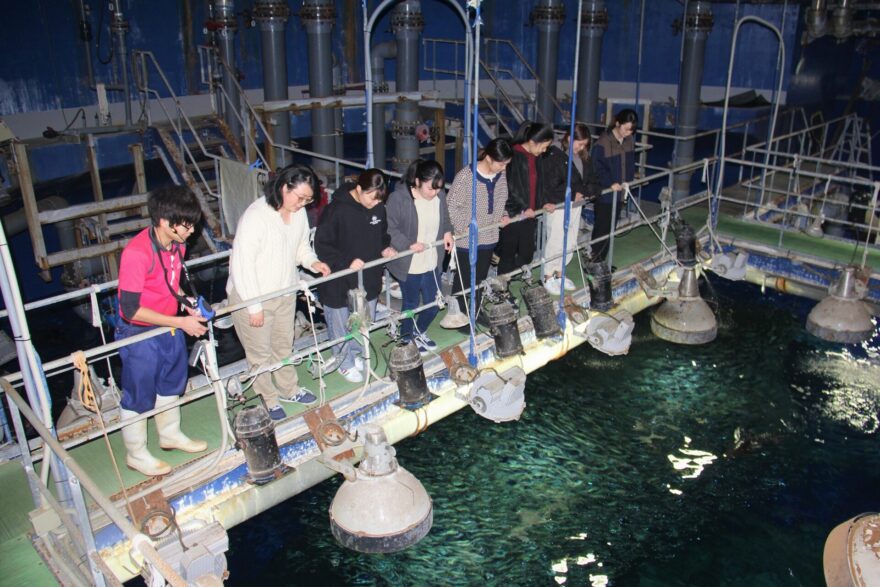 Time
[Date of NIGHT AQUAWORLD]
18:50-19:20 *About 30 minutes


☆ During the summer season (June to the end of September), 6:9-18:30 *It will take about 19 minutes.

Prices
1 people 500 yen(elementary school students and older)
*The entrance fee will be added to the price of the WEB ticket.
Capacity
Up to 20 people each time
The meeting place
Next to the otter tank on the 5th floor (in front of the toilet)
This program is for elementary school students and above.Preschool children cannot participate.In addition, elementary school students must be accompanied by an adult (the attendant also needs a participation ticket).
After the meeting time, it will be canceled.Also, refunds are not possible.
The backyard is wet and slippery.Please be careful of your feet.
You may look into the water tank from above.Please be careful not to drop anything in the water tank.
Please refrain from taking photos and videos in the backyard.
If you are unable to purchase a ticket for your companion due to sold out, please contact the general information desk.
Please cooperate in wearing a mask during the tour and disinfecting the soles of your shoes and hands at the backyard entrance.
If you would like to take a night backyard tour, please purchase a web ticket with a participation ticket.
In addition, the web ticket for admission to NIGHT AQUAWORLD is Click here for more information.Please purchase from

We look forward to your participation.