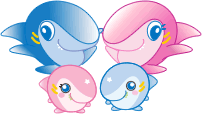 We deliver hot information in real time on the official SNS so that you can enjoy Aqua World Oarai even more!
Introducing events, discount information, parking lot congestion, staff recommendations, and more!
Official Twitter account
Twitter(Twitter) is a communication service that allows individual users to post and view short tweets called "tweets".
Even if you don't have an account, you can see it, so please take a look if you like.
Official Instagram account
Instagram(Instagram) is a social network service that allows users to share photos and videos taken by them.
The Instagram account of "Aqua World Oarai" delivers daily photos of Aqua World Oarai and photos and videos unique to the zookeepers.
Official LINE account
LINE is a communication app that allows you to enjoy "chat" and "call" for free.It is a popular communication tool that uses various stamps.
Official Facebook page