The food court is a tenant facility that has 10 restaurants with a wide variety of food mainly made from local Oarai ingredients, and 2 souvenir shops that sell Oarai seafood.
Like Mora Mora, where souvenir shops are lined up, it is in the free zone, so you can eat without an admission ticket.
In addition to the approximately 170 seats in the food court, outside terrace seats are also available.Enjoy the taste of Oarai and the scent of the beach while gazing at the Pacific Ocean!
Information
9:00 - Closing time
(Summer hours may be extended. Winter hours may be shortened on weekdays.)
Place
Marketplace (in front of the entrance, free admission zone)
Museum guide
Food court store / menu introduction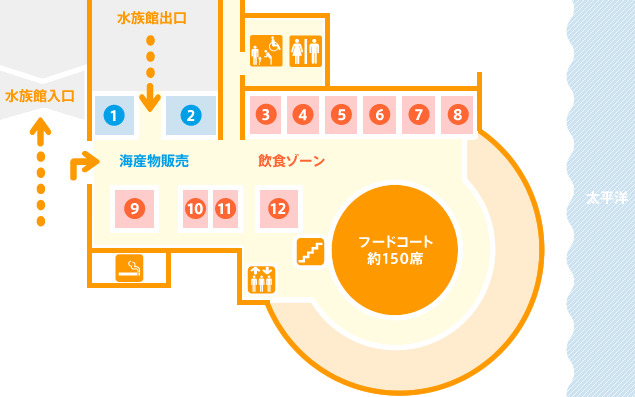 * The locations of "Yafuji Suisan" and "Iokaya Suisan" change regularly.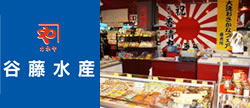 1. Tanifuji Suisan
Seafood sales
There is an abundance of marine products, including seafood caught in the Oarai and Nakaminato areas.The most popular item is koredappe, which is a kamaboko with clams, shrimp, squid, and vegetables.
How about dried fish and salted fish as souvenirs from Oarai?
---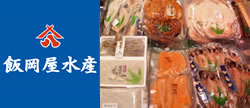 2. Iiokaya Fisheries
Seafood sales
A shop selling seafood such as boiled whitebait and whelk from Oarai, grilled clams, and Japanese hedge bream.
Not only as a souvenir, but also a variety of rice companions that you would like to have on your dining table.
---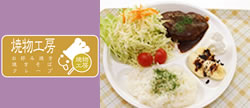 3. Pottery studio
Okonomiyaki, Yakisoba, Crepe
Coordinate your favorite crepe with 18 kinds of toppings on 12 kinds of crepes.Would you like to try our original crepe?
Hot frankfurters, okonomiyaki, fried noodles, grilled squid, and popcorn are also available.
---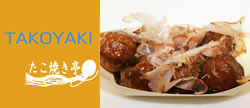 4. Takoyaki-tei
Fast food
Speaking of Takoyaki in Oarai, this is the place!
We have prepared a menu that you can easily enjoy, such as chewy and rich cheese takoyaki and seafood pizza with the scent of the sea.
We recommend the set menu.
---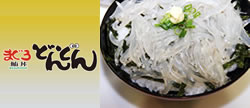 5. Tuna dondon
seafood rice bowl
We offer seafood rice bowls such as the popular Ryugu rice bowl, which uses plenty of fresh sea urchin, salmon roe, and tuna.For set customers, we will serve seafood soup or pork soup of the day.You can enjoy the limited-edition menu, such as fresh whitebait bowl from Oarai, which is made with the catch of the day!
---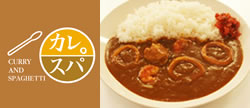 6. Carespa
curry spaghetti
There are 15 different kinds of menus, from orthodox curry to shrimp curry and seafood curry.
Various set menus such as spaghetti and shrimp hamburger set menu are also available. Takeout is OK, such as "pao" (pao) juicy chewy dog.
---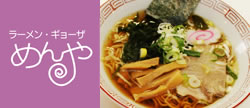 7. Menya
Ramen/Gyoza
A ramen shop that prides itself on its special soup.
The most popular set menu is ramen + mini fried rice.We have prepared menus that can be enjoyed by women and children, such as flavorful mini seafood Chinese rice bowls and children's ramen.
---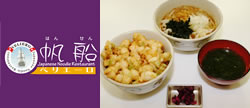 8. Sailing ship
Tendon, Udon, Soba
Luxurious set menu with plenty of jumbo shrimp tempura and seafood!
We recommend the freshly fried tempura soba and udon, which are 100% satisfying.It is highly recommended for those who want to eat all of Oarai's sea.
---
9. Marufuji sushi
sushi
We look forward to welcoming you with fresh ingredients directly delivered from the seasonal fish markets in Oarai and Nakaminato.
In addition to the set menu, tuna, aburi medium fatty tuna, flounder caught in the nearby sea, true octopus, and raw whitebait are popular.Please also enjoy crab soup and seafood soup (300 yen each).For pre-orders, we will serve crab soup.
---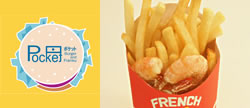 10. Pocket
Fast food
Popular dishes include the shrimp cutlet burger, which is popular for its plump texture, the teriyaki burger with a special sauce, and the deep-fried chicken.
Double the flavor with the hashed potatoes that come with the set menu!
---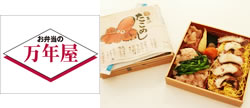 11. Mannenya
Bento
Isobushi bento, which was ranked 6th in Japan in the "King's Brunch Excursion Ekiben Ranking", and the popular Mihama Tako-meshi, which sells over 10 servings a year, and Hamaguri-meshi, must be eaten at least once. A must-have gem!
This is a rare ekiben that can only be purchased at Oarai Station and Aqua World Oarai.
---
12. Penguy
Fast food
If you are thirsty, this is the place!There are plenty of drinks, floats, and soft serve ice cream.In addition, "Tsukinoi", which is famous as a local sake of Oarai, is also on sale.This sake was made by the wife of a venerable brewery who succeeded her late husband.The book "Saigo no Yakusoku", which describes how he fought against illness, was also made into a drama starring Hiroshi Tachi and Narumi Yasuda.
---